Dental Implants in Boulder, CO
Ready to receive the complete, functional smile you deserve, from one of Boulder's most-requested implant dentists?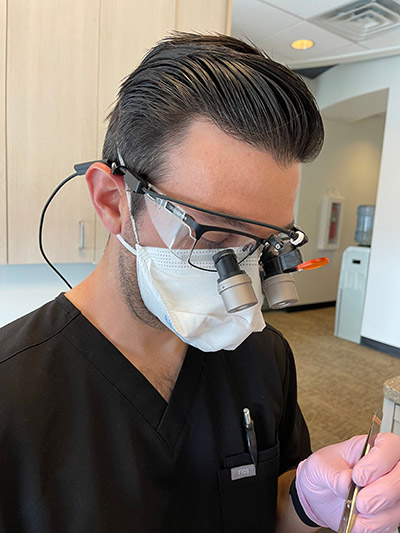 If you are suffering from lost, broken, or decaying teeth, it's likely you're also experiencing discomfort, pain, and more. Boulder Smile Design is here for you, with Dr. Jesse Friedman offering the top dental implant services near Boulder, CO and beyond!
Replacing missing teeth today is easier and more natural looking than ever with the modern advancement of dental implants. With our state-of-the-art dental implants, you can receive a new tooth or teeth that work and functions just like (if not better than) your original set.
How Do Dental Implants Work?
The life-changing dental implant procedure is known to improves your smile, oral health, and quality of life. Implant dentistry is performed by our Boulder, CO dentists for patients who are in need of a permanent and natural looking tooth replacement option.
Even better? Boulder Smile Design offers free implant consultations, and special financing options to make your dream smile more affordable than ever!
We offer the following dental implant systems:
Hybridge Dental Implants
Hybrid Dental Implants
Implant Retained Dentures
What are the benefits of dental implants?
At Boulder Smile Design, we've seen firsthand how dental implants can be truly life-changing for our patients!
Here are just a few benefits dental implants offer to our patients:
A durable, permanent tooth replacement solution
Improved aesthetic appearance of the smile
The ability to continue enjoying the foods you love
Enhanced speech
Preserved facial structure
How does the dental implant process work?

At Boulder Smile Design, all dental implant cases begin the same way: with the initial implant consultation. At every dental implant consultations, our dentists help patients to determine whether or not dental implants are the right choice for their unique needs. Our dentist will take a series of x-rays and 3D images to get a closer look at any remaining teeth, as well as the jawbone. Our goal with the consultation process is to empower and educate our patients — never pressure! If you are a candidate for implants, we can move forward with creating your new smile.
How much do dental implants cost?
Your out-of-pocket dental implant costs will be affected by your dental insurance plan. Fortunately, Boulder Smile Design is in-network with several top dental insurance carriers.
Don't have dental insurance? No problem! Our membership club, an in-house dental discount plan, offers discounts on a range of dental treatments so you can finance your dental implants, without the stress. Questions about financing your new implants? Our team is always happy to help - just give us a call!
Schedule Your Dental Implant Consultation Today
Ready to restore your smile? Our team is dedicated to delivering unmatched care to each and every patient, with results you can be proud of! Call today to schedule your dental implant consultation.