Pediatric Dentistry in Boulder, CO
At Boulder Smile Design, we know how hard it can be to trust someone else with your child's health! We also know how important it is that your kiddo receives regular, expert oral health care, so their teeth and gums can stay strong and healthy as they grow.
Our dentists recommend scheduling your child's first visit to the dentist around the age of 1 year old, or when their first tooth pushes through. Fortunately, we have an amazing pediatric dental office right here inside Boulder Smile Design! If you're looking for a kid-friendly Boulder, CO dentist your child will love, we have you covered at Rock Pediatric Dentistry.
Here are just a few of the kids' dental services offered by the friendly team at Rock Pediatric Dentistry:
Your Child's First Dental Visit
Rock Pediatric Dentistry welcomes children of all ages and abilities. Our mission is to make visits positive, fun, and educational experiences in order to build a very strong foundation for lifelong oral health and pediatric dental care. Because we understand that the first visit to the kids dentist can sometimes be scary for a child and stressful for both child and parent, we'll always do our best to alleviate that anxiety for you and your child.
After your first visit, you can continue to expect nothing but top-notch care from our friendly pediatric dental team!
Tooth-Colored Dental Fillings
While our approach to kids' dentistry is anchored in quality, comfortable prevention, sometimes small cavities can still occur. To treat them, we use safe, effective tooth-colored dental fillings that are always mercury-free.
Same-Day Dental Crowns for Kids
If your child suffers an oral injury, or if our team discovers decay, our team may recommend a dental crown to help save the tooth. We're proud to offer same-day dental crowns that are made right here in our office. This special technology eliminates the need for temporary crowns and follow-up appointments!
Pediatric Root Canals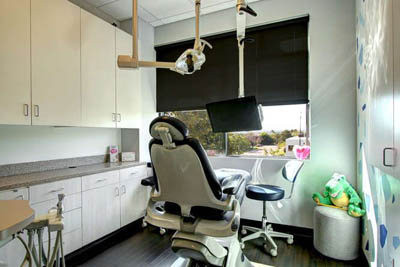 If your little one needs a root canal, our team has everything they need to stay relaxed throughout their visit, with comforting amenities, a health-focused approach, and friendly pediatric dentists to keep them calm along the way!
Dental Extractions for Kids
We may recommend a gentle tooth extraction to children suffering from decay or those who are experiencing crowding. Tooth extractions can ensure their total body health as your child grows.
Laughing Gas Sedation
For young patients who experience dental anxiety, have special healthcare needs, or simply need extra support to stay calm and relaxed throughout their visit, our team offers safe sedation dentistry services. Our dental team has the skills and experience to create a customized sedation plan based on their needs and health history.
Invisalign Orthodontics for Kids
Does your little one need orthodontic treatment? Our team offers Invisalign clear aligners for all ages. Contact us to schedule your child's orthodontic consultation!
Schedule Your Child's Dental Care
The friendly team at Rock Pediatric Dentistry make every aspect of oral health care easy-peasy for young dental patients! Located right here in our Boulder dental office, Rock Pediatric Dentistry will make your little ones feel right at home.
Call today to schedule your child's next dentist appointment. We're excited for your little one to become a part of our dental family!