Our Dental Technologies at Boulder Smile Design
At Boulder Smile Design, we invest in the latest dental tools and technology to cultivate a top-notch experience for our patients, while keeping their optimal comfort and convenience in mind.
Staying up-to-date with the latest advancements in dental technology allows us to make every treatment more effective and generally more affordable. Precision diagnostics and dental technology also allow us to be more efficient, which means you can receive your dental treatments faster at our Boulder dentist office!
3D Digital X-Rays
X-rays are a dental technology that are used to help increase accurate diagnosis as well as clinical safety. At Boulder Smile Design, we use 3D x-ray technology to expose our patients to less radiation, make x-rays quick and comfortable, and make your x-ray images available to our dentists immediately.
Intraoral Camera
X-rays are an excellent tool that help us diagnose oral health problems, but an intraoral camera takes dental imaging technology a step further. At Boulder Smile Design, our dentists use the intraoral camera to examine the deeper areas of our patients' mouths that x-rays can't show.
Laser Dentistry
At Boulder Smile Design, we laser dentistry procedures to provide a more comfortable dental treatment experience for our patients. Dr. Friedman and his team use laser dentistry to deliver precise treatments that are more comfortable in a shorter time. Dental lasers are used for a variety of procedures, including periodontal therapy, cosmetic gum treatment, cavity detection, and more.
iTero Digital Scanner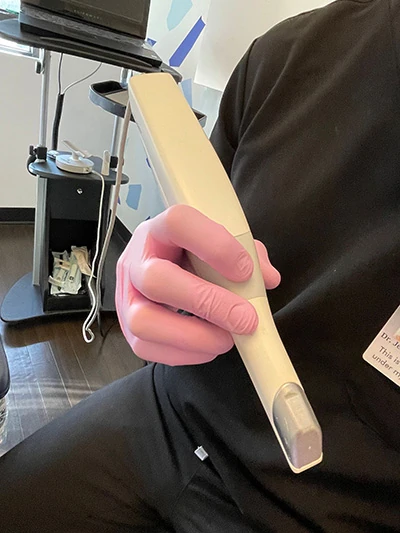 Boulder Smile Design uses the iTero digital scanner to take mess-free, non-invasive impressions of your smile that can be used to design your customized orthodontic treatment plan.
Powered by state-of-the-art optical technologies, the iTero scanner allows our dentists to take quick, comfortable digital impressions of the teeth and surrounding tissues — without the sticky, goopy materials used in traditional impressions. The images will be available to our dentists right away.
CBCT Digital Scans
CBCT scans produce 3D dental x-ray images of the jaws and teeth, allow our dentists to view exact shape of the bone. This makes it easier to assess our patient's potential response to advanced procedures like dental implant placements, oral surgeries, and more.
This advanced technology provides valuable, top-quality images and information that allows each procedure to be more efficient, effective and tailored to each unique patient. As an added bonus, the 3D CBCT scanner operates with less radiation exposure, providing a healthier experience for our patients. Our digital scanners also have unique diagnostic properties that allow us to detect infections, cavities, and more!
Comfort Dentistry
Our office is equipped with sedation dentistry, allowing patients to have laughing gas administered during any procedure.
Experience Top Dental Technologies in Boulder, CO
Ready to experience the latest dental technology in a comfortable atmosphere? Call Boulder Smile Design today to schedule your appointment!