Restorative Dentistry in Boulder, CO
Ready for restorative dentistry done differently in Boulder, CO? At Boulder Smile Design, we understand many smiles are susceptible to decay, infection, and breakage, and will sometimes need to be restored back to health. Through improved techniques and modern technology, Dr. Jesse Friedman and his team are now able to offer more options for restoring a tooth back to its normal shape, appearance and function.
Should your teeth ever require a dental filling, crown, bridge, or long-lasting tooth replacement option, you can feel confident in choosing Boulder Smile Design. We'll always discuss with you the available options, and recommend what we believe to be the most comfortable, least invasive treatment.
We're proud to offer the top restorative dentistry services in Boulder, CO — providing you with excellent care is our number one priority when creating your beautiful smile!
We offer the following restorative dentistry offerings at our dentist office in Boulder, CO:
Same-Day Dental Crowns
Boulder Smile Design is now offering same-day dental crowns! Dental crowns are used to repair damaged and broken teeth that are still otherwise healthy. The crown fits over the original tooth to provide protection and stability. Dr. Friedman may also use dental bridge to fill the gap created by a single missing tooth. The dental crown procedure can also be used for chipped tooth repair.
We fabricate our same-day dental crowns using the following durable, tooth-colored materials:
All Porcelain
All Ceramic
Zirconia
BruxZir®
Porcelain Dental Bridges
A porcelain dental bridge is a fixed (non-removable) appliance and is a simple, affordable way to replace missing teeth.
At Boulder Smile Design, we offer several types of bridges. You and your dentist will discuss the best options for your particular case. The "traditional bridge" is the most popular type and is usually made of porcelain fused to metal. Porcelain fixed bridges are most popular because they resemble your natural teeth. This type of bridge consists to two crowns that go over two anchoring teeth (abutment teeth) and are attached to pontics (artificial teeth), filling the gap created by one or more missing teeth. Dental bridges are highly durable and designed to last many years.
Tooth-Colored Dental Fillings
Instead of the old style of unattractive metal fillings, Dr. Friedman color-matches his state-of-the-art dental filling material to blend perfectly with your teeth. No one will be able to tell that you have had a cavity or white fillings. Even better, we are an amalgam-free dental office, which means you'll always be treated using the safest possible materials.
Dental Bonding
We use the powers of dental bonding to beautify and fortify parts of the tooth that are missing. We use only expertly shade-matched, tooth-colored materials (similar to white fillings) to cover chips or gaps in the teeth. For most patients, we won't even need to numb or adjust the affected tooth.
Dental Implants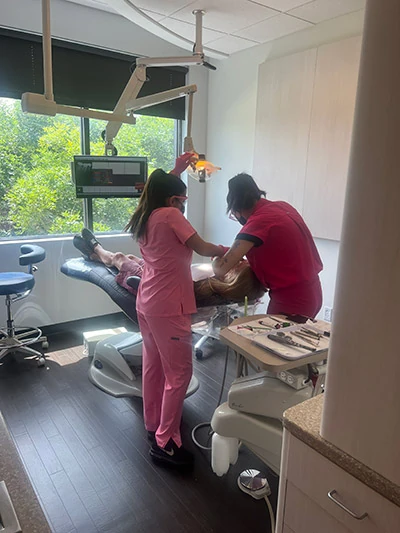 Dr. Friedman's implant dentistry training and experience mean he can replace lost or missing teeth with state-of-the-art dental implants that look, feel, and function just like natural teeth. An implant consists of a titanium post ("root") permanently anchored to your jawbone. He then places a solid dental crown called a restoration just below the gum line to complete the dental implant procedure and the natural look.
We offer the following dental implant systems:
Single Dental Implant
Hybrid Dental Implants
Overdentures
Removable Dentures
Whether you need all your teeth replaced or just a few, dentures and partial dentures offer cost-effective, aesthetically pleasing methods of filling the gaps created by missing teeth. Whether you are missing some of your teeth or all of your teeth, we'll custom-craft a dentures solution that seamlessly fits you!
Schedule Your Restorative Consultation with Dr. Friedman!
You deserve a complete, confident smile! Call today to schedule your restorative dentistry consultation at Boulder Smile Design.